Meetings & News
September 2021
Tuesday, September 28 at 5 pm on Zoom  (see agenda)
You are invited to our September Meeting of the Harlem River Working Group where we will be discussing updates on our efforts to reconnect community members to the Harlem River Waterfront and to develop a greenway and on-water access points and activities on both sides of the Harlem River Waterfront.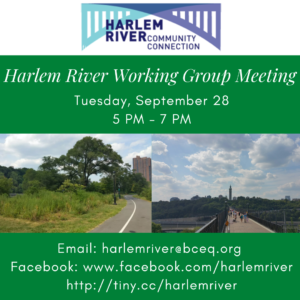 October 2021
Wednesday, October 13 at 11 am in person and on Facebook Live (see invite)
Our 10th Celebration of the Urban Waters Federal Partnership  for the Bronx and Harlem River Watersheds.
Enter on High Bridge – Bronx side.
—- Press Conference with expected attendees: federal agency and elected officials. Rain date Thursday.  Space is limited due to COVID tracing.  For more info contact: sara@hudsonriver.org
News & Updates