April 5th, 2023 Posted in
Board Meetings
,
ByLaws
,
climate changge
,
Front Page News
,
Green Infrastructure
,
Greenway
,
In the News
,
Membership Committee
,
Parks Committee
,
Water Committee
We had a Special Guest Speaker Nelson Vaz, a local NOAA Meteorologist, to discuss what we can learn from past Weather events.  Check out this Bronx Council for Environmental Quality Presentation_final (high-res) of the presentation made at our Annual Meeting.  It is so interesting.  Filled with data and things to learn.
And if you want to volunteer to help out, try this app on your smart phone. The next storm, go out and document it!
Oh, here is a photo of the full crowd at our meeting last week!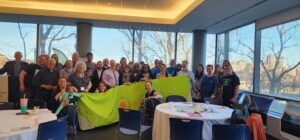 Related Posts: