October 20th, 2023 Posted in
Front Page News
,
Harlem River Working Group
Saturday rain postpones event to Sunday
Unfortunately, the
rain has forced us to move our Harlem River Celebration

and Canoeing with Wilderness Inquiry from Saturday October 21st

to Sunday October 22nd from 12-4pm

.

The positive part of this day change is that we will have
one to two thousand bicyclists riding through Roberto Clemente State Park Sunday as part of the Tour del Bronx Bicycle Ride

, the largest free annual Bicycle event in NYC. Up to 6,000 riders participate every year and this is the first year that the Harlem River Greenway and Roberto Clemente State Park will be included in the event, although only a smaller number of riders will reach the park as it is part of the 40+ mile ride and not the 25 miles ride.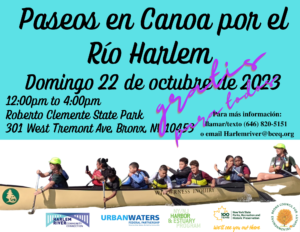 Related Posts: